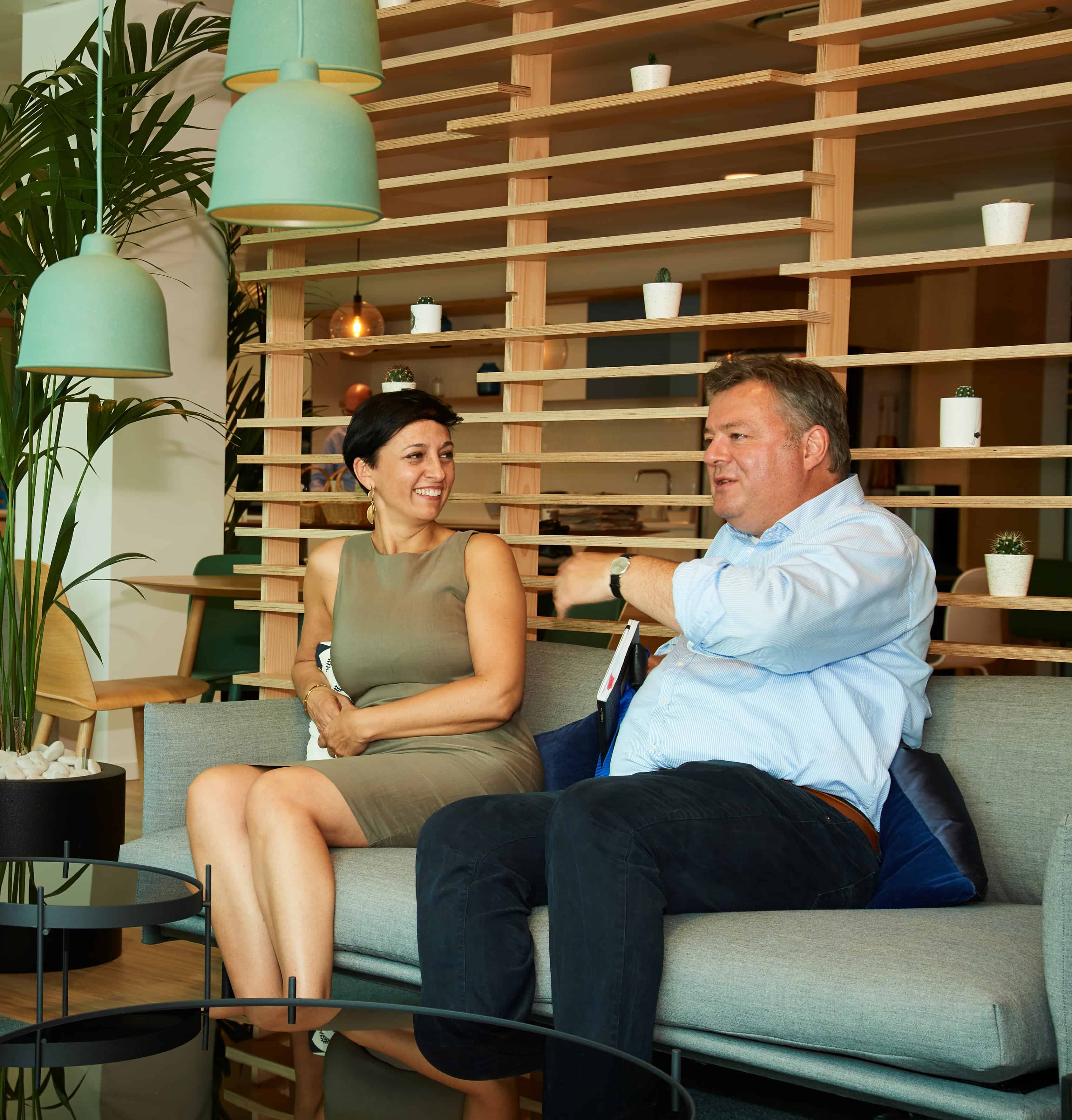 Rabobank's COO Marc de Jong: "We see investing in office design as investing in people. Our renovated office must accentuate our culture and values and signal a new start."
"Investing in office design is investing in people"
The new design of Rabo's headquarters in Belgium tells a story. The central meeting place is The Village, a hip and cosy space that's much more than just a refractory. The office now has scarcely any closed spaces. Instead there are cosy corners where employees can withdraw to be alone or have a discrete conversation. The walls are decorated with Antwerp landmarks such as MAS and the meeting rooms have names like Eilandje, Steen and Lange Wapper….
This is undoubtedly a warm, future-oriented organisation that is firmly embedded in its location. This is design with a message. Exactly as the management of Rabobank intended.
Accent on corporate culture
Not just the offices, but also the company spirit was in need of a makeover. "The last few years have been tempestuous times for our sector", told Rabobank's COO Marc de Jong. "Our image has suffered as a result of the banking crisis, and automation is forcing us to cut costs. All this has led to unease and anxiety among the staff."
This is why Rabobank's management wanted the new office space to be more than a non-committal makeover. Marc de Jong: "We see investing in office design as investing in people. Our renovated office must accentuate our culture and values and signal a new start."
Fostering commitment through participation
To realise their ambition, Rabobank found the right partner in C&W Design + Build. CEO Anthony Shaikh: "We also believe that office design must reflect a company's culture."
But who decides a company's culture? "C&W Design + Build did not want to impose this from the top down", said Anthony. "We therefore appointed twelve 'ambassadors' among the employees to choose from a range of designs. This turned out to be a very good move."
Better working atmosphere
It appears that there really is a Rabobank culture as the ambassadors were quick to agree on the best design. They also put forward the suggestion that the office should place extra emphasis on its Antwerp roots.
"Naturally, some employees were still mistrustful", told Peggy Van Autreve, Head IT & Facilities Rabobank. "But that disappeared the moment the final result was presented. Then everyone wanted to move as quickly as possible. There is now more space, even though we moved from having 20 to 70 people on one floor. The Village is used much more intensively than our old refractory ever was and there is more interpersonal contact – also across company departments."
Marc de Jong said decisively: "In terms of comfort and ergonomics our office design has made a leap from the 18th to the 22nd century. This is now also an accurate reflection of our company culture. You can also feel that the atmosphere has improved. It's exactly what we had in mind, thanks to the smooth and close collaboration with C&W Design + Build."